We're happy to announce that our new WNC Waterfalls App for Android phones and tablets is ready for download!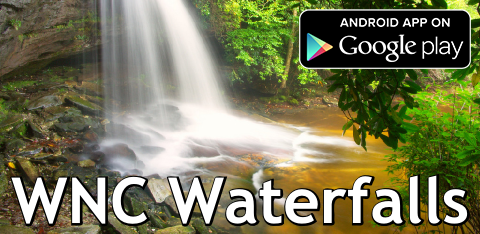 Starting today, you can visit 50 of the area's popular waterfalls using this guide on your Android device. It's packed with the same information we provide here on the web – but with no data connection needed after installation.
Photos are provided to help you decide which of Western North Carolina's beautiful waterfalls you'd like to visit. Search for waterfalls by name, hike difficulty, and distance from your location.
Each waterfall is described in detail, with comprehensive hike descriptions, along with full driving directions. Several waterfalls in the app are wheelchair accessible, many are family friendly, and others are perfect for adventurers, requiring a longer, more strenuous hike through the backcountry to reach.
Each waterfall also has a detailed topo map that can be used with your device's GPS to track your location while hiking.
Made to complement our long running waterfall web site, the app represents the next stage in WNCOutdoors.info's quest to provide comprehensive, guidebook-quality information about the outdoors in Western North Carolina.

Download the app now in the Google Play Store!
The WNC Waterfalls App for Android is compatible with Android devices running version 2.3.3 Gingerbread with 106 MB free space. We hope you enjoy using the app, and look forward to hearing your feedback as you use it during your own waterfall exploration!
If you have an Apple iOS device instead of Android, you may want to check out Todd Ransom's Waterfalls of Western North Carolina app in the iTunes store.