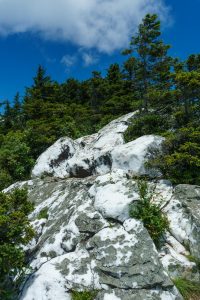 Many people are familiar with Shining Rock, the magnificent 6000 ft elevation rock outcrop in Pisgah National Forest, its gleaming white quarts stones visible from miles and miles away, that gives the surrounding Wilderness area its name. It's hard to say exactly how many ascend the summit for the spectacular view each year, but it must be in the thousands. But one feature of Shining Rock remains less well known: a small cave deep in its dark interior.
Now mind you, this is no Mammoth Caverns. It certainly meets the definition of a "cave": a hollow place in the ground, specifically a natural space large enough for a human to enter. It has that "cave" feel to it when you're inside. But it's not one I'd recommend spelunkers to come long distances just to see. It will surely disappoint.
Still, if you're hiking in the Shining Rock area and have the skill and extra energy, it might be worth checking out.
Directions:
Hike to Shining Rock, from the Black Balsam parking area via the Art Loeb or Ivestor Gap and then the Old Butt Knob trails. Then, find your way to the cave using visual clues from the video below. It's a bit difficult to access, and the trek is not without risk (to yourself and the sensitive environment surrounding it). As such, that's as specific as I'll be! Those who really want to find it, will.
---
With the heat of summer in full swing, I try to hit the higher elevation trails for a breath of cooler air whenever possible. On July 8, 2018, I decided to hike to Shining Rock again to get back on the regional trails after a trip to Rocky Mountain National Park. I was craving that high-mountain scenery, needed to get some updated pictures of the area, and the weather was looking perfect for early July with nary a chance of rain in the forecast. My planned trip was via the Art Loeb trail over Black Balsam Knob, returning via the Ivestor Gap trail.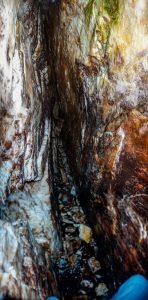 The hike out was uneventful, save for the crowds near Black Balsam and all the pictures I kept getting distracted into taking. It was a relatively easy 4.7 miles, though I will say the Art Loeb is more overgrown and eroded than ever these days. One hopes the Forest Service will eventually execute on its supposed plan for "heavy maintenance" on this, one of the South's premiere destination trails…
As I nommed on some lunch atop the summit, I remembered my first trip to Shining Rock many many years ago where a friend and I had stumbled upon a small cave in the side of the rock as we explored down from the summit. We'd found the entrance and then marveled at the passage that dropped down into the heart of the outcrop, with its gleaming white walls and a nice-sized chamber where both of us could comfortably hang out and explore. I remembered the climb back out being somewhat tricky, but how excited we'd been to find it on a whim before hitting the trail back in time to meet one or the other of our parents who was scheduled to pick us up at the parking area. (Yes, this was before either of us could even drive!)
Or at least I thought I remembered it. In all those years, I've never seen any reference to the cave or heard anyone mention it even in passing. I asked another guy who was hanging out on the summit (who'd been to Shining Rock before) whether he had heard of it – no luck. I was beginning to seriously doubt my feeble memory!
So of course I just had to go looking for it again. I packed up and picked my way down the side of the rock, looking this way and that for that hidden entrance among the angled slabs. It certainly looked familiar down there. But had I only imagined the cave? Was it on some other mountain? Did it close over in the intervening years?
As I scrambled around the rocks below the summit, not having any luck and after finding myself uncomfortably close to some sheer rock faces, I decided I wasn't going to re-discover it this way. I thought I'd give it one more try coming in from the bottom of the outcrop – I seemed to remember it being below the tree level which was still a good bit below where I was exploring.
So, I made my way back down the trail-side of Shining Rock and wrapped around the south side of it in the spruce forest. After some boulder scrambling and some short forays up the looming outcrop to explore what looked like some deep cracks and dark places, I hit the jackpot! The small entrance to the cave was still in the same place it's been all those years – just below where my earlier top-down exploration had taken me.
With some trepidation and a bit of foolhardiness, I crept slowly through the entrance to the darkened chamber, letting my eyes adjust to the feeble light reflecting off the gleaming white quartz walls. Just as I'd remembered, there were stair-step rocks making it possible to drop all the way down to the floor of the cave. And just as I'd remembered, the bottom was flat, plenty big enough to walk around in and explore, with that dark, quiet, drippy cave-like feeling. It definitely exists!
After a good bit of time soaking up the cavey-ness and taking some pics and videos from within, I headed back up. The initial climb back out was just a wee bit tricky (just as I'd remembered) but the remainder of it went easily.
The trip back to the car was much less eventful but highly enjoyable on the always beautiful Ivestor Gap trail to complete a fun days' outing with fresh memories of the cool, dark yet bright cave I'd finally manged to re-explore all these years later.
IF YOU DECIDE TO GO:
There are risks involved in hiking, rock climbing, and cave exploration, all of which are necessary to visit this special place.
I'm not providing specific directions to the cave. You'll need route-finding and video-sleuthing skills to explore your own way to it.
Take all necessary precautions for wilderness travel: map and compass, overnight provisions, clothing layers, shelter, food and plenty of water.
You'll have to bring all equipment you'd normally need for hiking, off-trail mountain travel, rock climbing, and cave exploration in one trip.
And know how to use it all properly.
And remember it's a 5 mile hike just to get to the entrance.
Take someone with you and let someone know where you're going.
And use your utmost care to avoid degrading the natural environment. LEAVE NO TRACE!
Your safety is your responsibility. This trip is a lot of work for potentially very little reward, unless you really dig tiny little caves inside interesting mountains!
For more information on the Shining Rock Wilderness area, visit the Shining Rock Wilderness page on HikeWNC.info