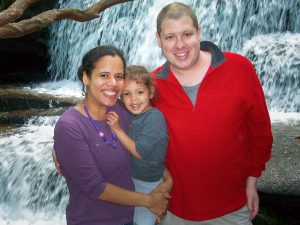 My name is Jordan Mitchell and I have lived in Western North Carolina for most of my life. I have been hiking the trails in the area as long as I can remember, and mountain biking since 1996. As for my day job, I serve as a software developer in downtown Asheville.
I have a beautiful wife, Yve, whom you may know as my account manager. My wife keeps me grounded, but also allows me to pursue my passions, for which I am deeply grateful.
We recently welcomed an addition to our family, Harper Amelia. Yve, Harper and I continue to explore the mountains together to bring new and exciting information about outdoor recreation to the WNCOutdoors.info sites.
WNCOutdoors.info is a network of informational web sites about outdoor activities in Western North Carolina's Southern Appalachian mountains. We first appeared online in 1996, and have been growing our base of information since then. For more information about WNCOutdoors.info, choose one of the pages below, or visit one of our network sites for all the outdoor information!
Copyright Information and Photo Requests