We chose Rich Falls for our Saturday hiking adventure after finding it in the third edition of Kevin Adams' North Carolina Waterfalls guidebook. We wanted a crystal clear, private swimming hole, and a trail that would likely be deserted. I'm a social person when I have to be, but when Friday night arrives, I'm usually ready to spend time exclusively with my little family. When I'm alone in the woods with my daughter and husband it feels like the one place where I truly belong.
There was only one other car at the trailhead, and we started up an old roadbed studded with beautiful ferns, moss, and dog hobble on the forest floor. There were also the gold standard poplars, maples, mountain magnolias, and oaks. I listened to warblers singing, and the crunch of our feet, all while reminding my daughter to listen more and talk less. We jumped over shadows of sunlight dancing on our path, and plucked up a fallen mountain magnolia fruit that was still hard, green, and fragrant. It reminded us all of lemon, eucalyptus, and pine, and we took turns breathing it in as we walked along.
We hiked about three miles until the trail forked and it was time to look for the steep descent to the falls. I was fighting symptoms that felt like low blood sugar, and I was hiking much more slowly than my usual hearty pace. Jordan spotted a pink ribbon attached to a spindly tree, and I looked down with apprehension at the condition of the last leg of our journey. It wasn't just that it was straight down without the falls in sight, but that the soil was loose and slippery. There were also low growing trees that would make for a claustrophobic scramble. I felt my internal battery powering down, and I was afraid that our seven-year-old wouldn't be able to make it. I started down anyway because I knew the end result would be worth it. It always is!
We made it down to the falls, but hikers should keep in mind that this trail has a difficulty range of 4-9, and we reached the height of that range on this section. Our kiddo did just fine, but she's an experienced hiker with an iron will. (Especially when there is water involved!)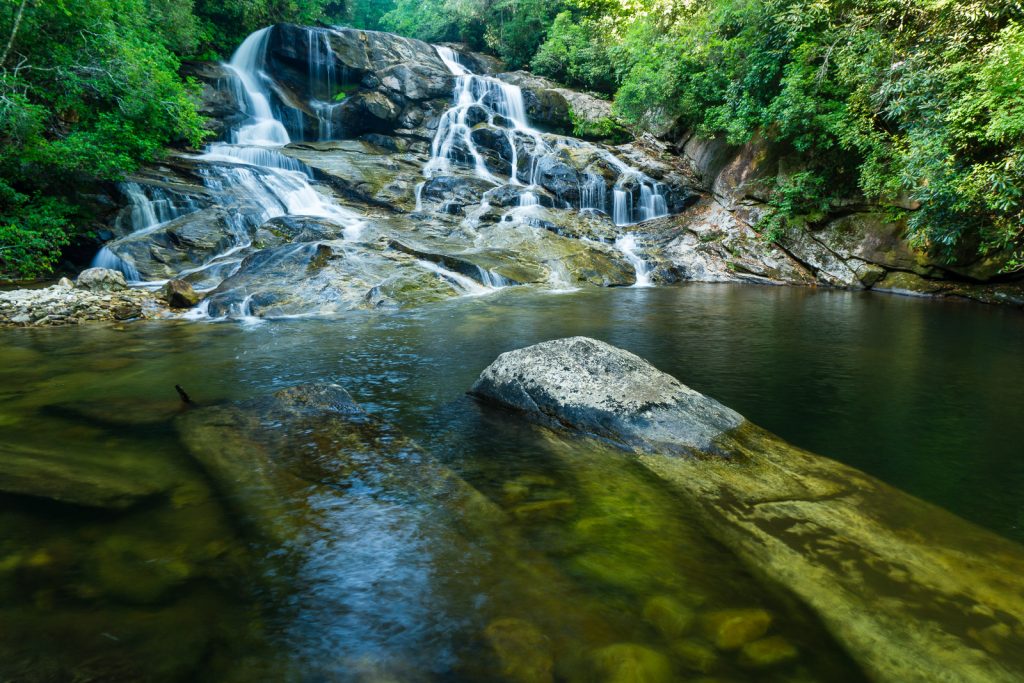 We haven't had a lot of rain this summer, so the falls was not running at its full glory.  I'd still give it a beauty rating of 7, and the plunge pool was pristine and second to none. The water was cold but incredibly refreshing, and we quickly discovered a natural water slide at the base of the falls, right before the pool. We went down feet first, head first, on our bellies, and on our sides, and we laughed into the waterfall's roar.
We also discovered a carved out section of rock where the water gushed and flowed like the powerful jets of a hot tub. I lay down and stretched my arms above my head and let the water massage my neck and back; my body felt so good after.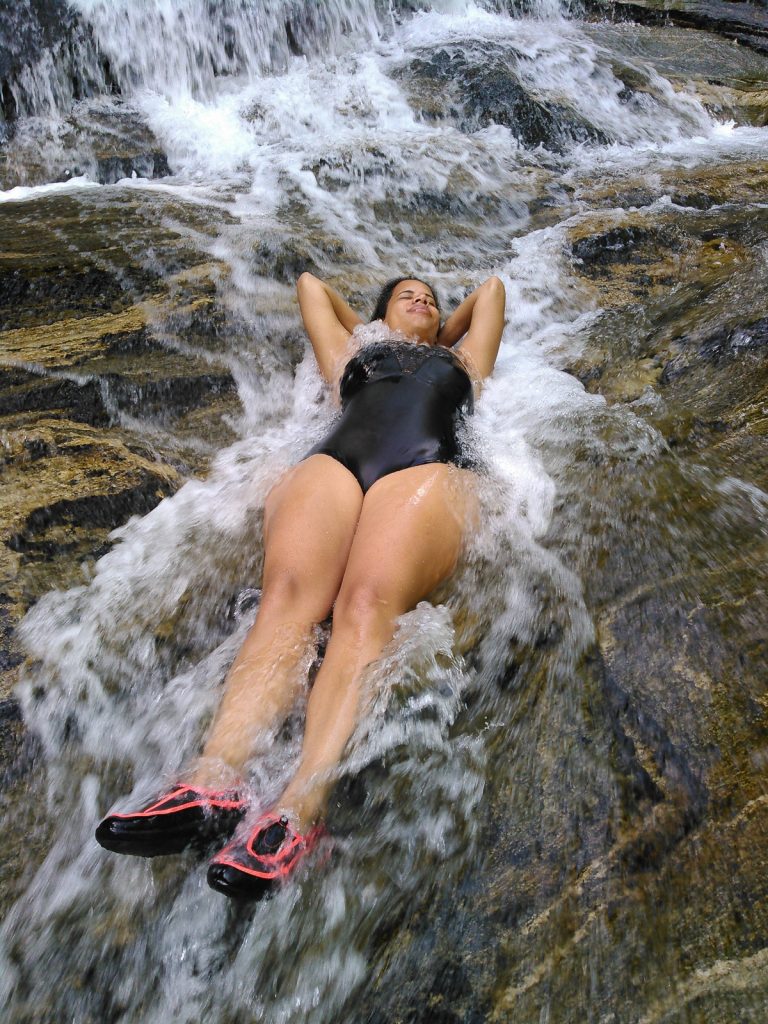 We had to drag ourselves away with dinnertime approaching, and the trip out was so much more enjoyable than our descent. I loved searching for trees to hold onto, and feeling my leg muscles tighten as I stretched one leg high before bringing the other up to join it. At one point we saw a tree dangling, completely free from the earth, and we quickly scurried around it hoping it wouldn't fall on one of our heads.
We were all alone with our thoughts on the way back to the car, and it was that perfect time of evening when the sun shines out through the trees like so many loving arms.