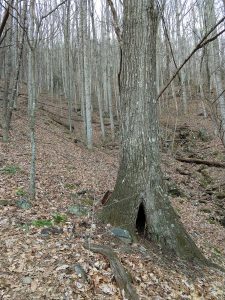 I've always dreaded winter. The shorter days, the biting cold, and all the preparations involved just to be comfortable anywhere make it difficult to endure, to enjoy. I grew up in Denver in the 90's when it snowed and snowed and snowed all season long, and life somehow continued beneath the weight. My parents were poor rather than environmentally conscious, so we couldn't ever turn the thermostat up as high as I wanted it, and I could never get warm enough. I lived in moccasin socks and huge thrift store sweaters, and I willed the time away until late spring when I could go outside again without it hurting. This was long before I'd been exposed to the mountains, to hiking, and to the idea that nature was for play, exploration, and spiritual connection. Back then I was just a deeply depressed girl waiting to escape the confines of home. Winter held me against my will, year after year.
Even after moving to the Appalachians nearly eighteen years ago, I shunned the gentler winters I found here and buried myself in books (a year round obsession that reaches a fever pitch during the colder months) and grumbled during long hikes with my husband when my cheeks burned pink and my chin was so numb I couldn't speak intelligibly. Winter was isolation, the cessation of movement, the sealing of fate. I spent most of my twenties with my back turned to her light, her views, her profound stillness and wisdom.
Maybe it's the new home we moved into a few years ago at the base of Watch Knob with a trail that begs to be climbed every day, or the trees up here that creak in the winter wind like doors opening, or the giddy premonition that there's snow on Rock Knob or Snowball Mountain, but I've been out in the cold with a brashness, a boldness, that I've never known before. I've learned to dress for the weather.
Winding home from an hour's trek, I start thinking about leaning into a steaming shower, putting my boots and wool socks along the grate to dry, and hugging a mug of cinnamon tea in warm, dry, clothes. It's all so sensual, and I, the sensualist, don't want to miss another day of this season.
Of any season.
Hello, Winter. It's so nice to finally meet you.