Earlier this year, Pisgah Map Company released another map in the Western North Carolina Trail Guide series, this one of DuPont State (Recreational) Forest. Like the Pisgah Ranger District map published in 2011 (which we also reviewed), this is another fantastic publication made by locals who are not only trail experts, but whose award-winning company is leading the entire industry in the outdoor recreation map space.
Although there isn't a National Geographic Trails Illustrated map of DuPont like there is of Pisgah, there has been another map of DuPont State Forest available. It's produced by the Forest Service in conjunction with the Friends of DuPont Forest group, last revised in 2012. While I like both, I think the newer one edges it out when taken head to head. Read on to find out why!
Size & Form Factor
The Trail Guide map is larger, making more room for detail necessary in a dense trail network like this one. Without measuring, I'd say it has more than twice as much area as the smaller one.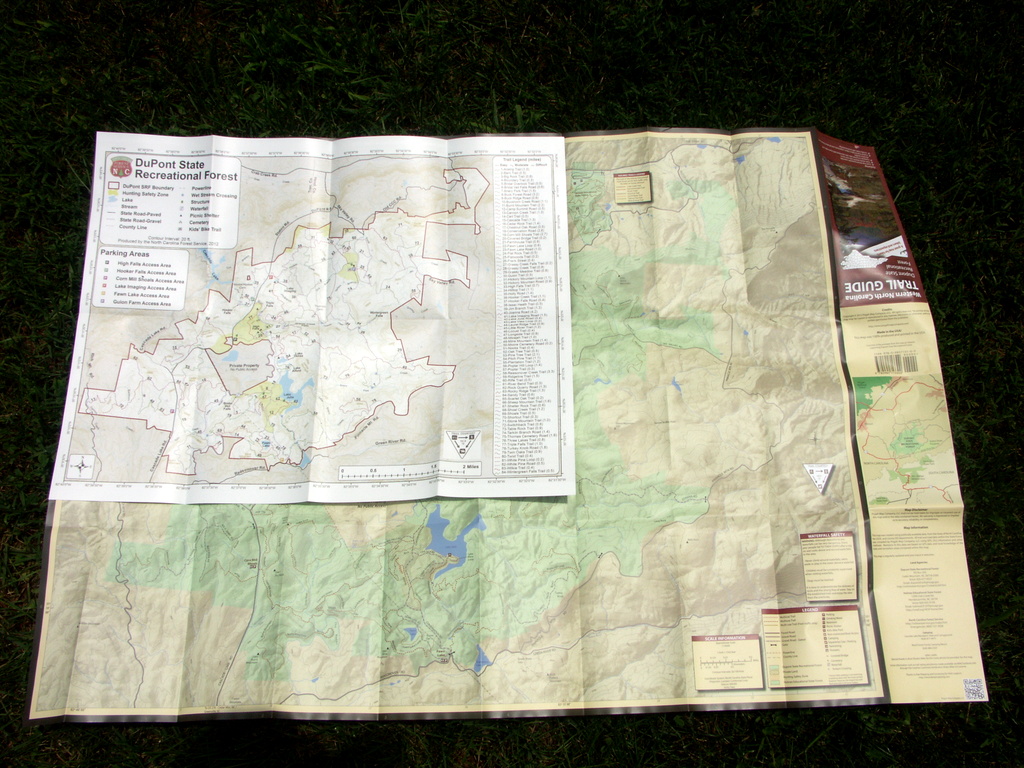 However, it folds up into a narrower size than the older map – which fits better in my packs which tend to have narrower compartments, or even a large pants pocket. The Friends map is more square, while the Trail Guide is shaped more like a tri-fold brochure.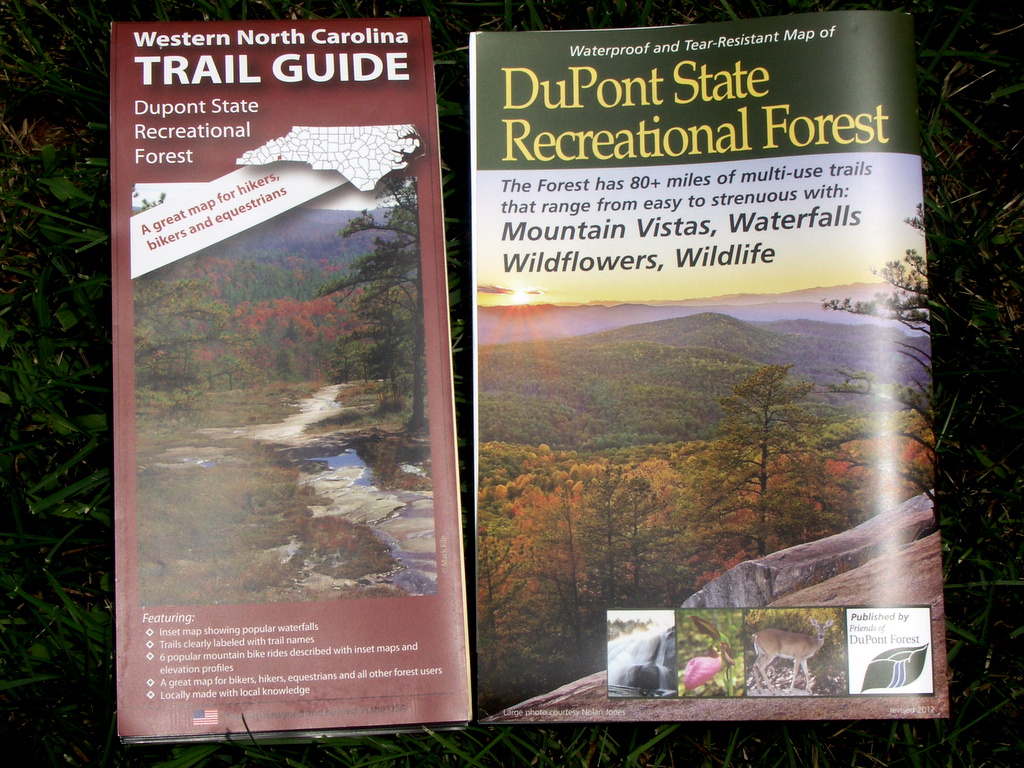 More than just a map, both publications feature the main map on one side, with a variety of other information and map insets on the reverse.
Detail & Style
Both maps provide adequate detail for navigating Dupont State Forest's trails, especially since the trails are well-signed on the ground and easy to follow, so it's hard to miss a turn.
Style wise, I prefer the Trail Guide when considering text, graphics, and symbology. It feels more like a modern digital version of many government maps – like, for instance, the National Park maps – which in turn are inspired by our old go-to recreational maps: the USGS quads. In keeping with the Pisgah Trail Guide, this one also labels each trail with its name directly on the map.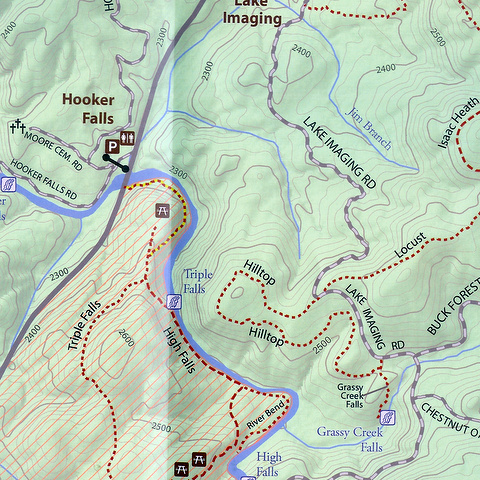 Contours are subtle yet crisp; hill shading is provided to give a slightly 3D appearance. Property boundaries are clearly visible without having a thick, distracting border. This is ultimately easier on the eyes and provides more information in the same space.
Meanwhile, some of the symbols and labels on the Friends map are so large that they sometimes cover up nearby details. The trails – which are now more standard dashed lines on the 2012 edition as opposed to the thick solid lines on the 2008 edition – are color-coded and only numbered on the Friends map. This means you have to cross-reference the index each time to find out a trail's name.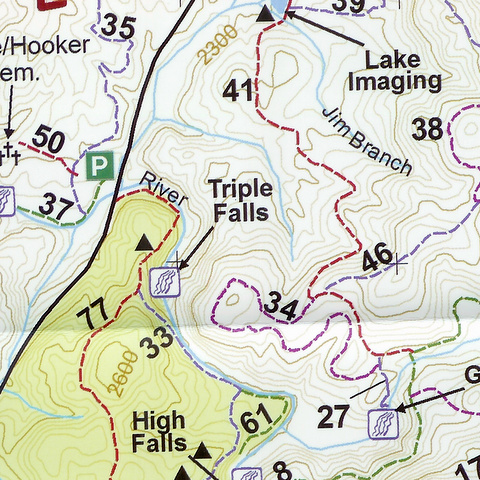 The contours stand out a bit more on the Friends map, and the elevation labels are unusually large.
On the other hand, those with difficulty reading fine print or seeing fine detail might choose to opt for the Friends map for the reasons above, since the labels are much larger. The descriptive text is in a somewhat larger font, too – handy for casual reading.
Both maps provide insets showing a close-up of the very popular waterfall areas. But the Friends map's inset is devoid of topographic info, making it a little harder to judge difficulty of the trails.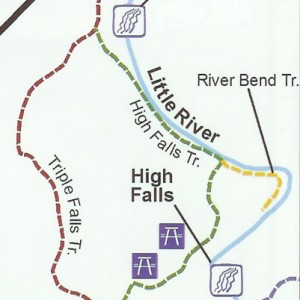 The Trail Guide uses the same styles in its insets as it uses on the main map.
Neither yet shows the new trail completed this year to High Falls, but it's easy to follow and I suspect future revisions of both maps will include it.
Extras
Both maps feature an attractive cover, full-color photographs, and details about area attractions on the reverse. Either map will guide you to all the major attractions – lakes, waterfalls, summits – within DuPont.
But with more space, the Trail Guide is also able to provide several smaller guides highlighting some great popular mountain bike routes within the larger trail network. These include basic stats, GPS coordinates, a turn-by-turn/cue sheet as well as an elevation profile. If you're from out-of-town and just want to pick up one map before you go out to ride, this makes it pretty compelling and worth the extra price (see below).
Price and Availability
The Friends map is becoming difficult to find in many stores (especially in the Asheville area), while the Trail Guide is now available nearly everywhere. However, the Friends map does run a good bit less than the Trail Guide if you can find it.
At Mast Store – one of the last places that stocks them in Asheville – the Friends map was $8, while the Trail Guide was $14. A portion of the proceeds from both goes toward trail maintenance and other projects in Dupont.
Digital Version
The Trail Guide map is also available in the Avenza PDF Maps Store as a digital download for your iPhone (and soon, Android phones & tablets as well). It's the same map as the printed version, without the ride guides on the map (and with some collar information rearranged). We've been testing the Avenza app beta on Android and it's very nice, and allows you to track your position on the map in real-time using GPS. It also allows you to add your own annotations and export them as a KML file for sharing. This is a compelling new development, and I think having access to a digital map consistent with the printed version makes the Trail Guide even more attractive.
Keep checking back for more specific reviews of the digital map offerings including this one!
Bottom Line
Both maps are worth the money, and both will get you around just fine within DuPont State Forest. But the WNC Trail Guide has a more comfortable size, nicer style, and a few extras that make it my recommendation if you're looking to make a choice between the two to buy.
For more information, visit the publisher's web sites:
Pisgah Map Company
Friends of DuPont Forest
A quick note in the interest of full disclosure: Pisgah Map Company used some of our own photos on the Trail Guide. They were provided free of charge – and anyone else is also welcome to use them as such 🙂