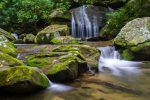 The hike to Catawba Falls has always involved a tricky rock-hop near the beginning of the trail. While it's not terribly difficult or at all dangerous, it does represent an obstacle to some people who wish to enjoy the falls – especially dry!
The Forest Service long ago announced plans to improve the access to the falls, and it looks like that begins next week with construction on the footbridge near the parking area. We'll keep updating as the project progresses. The full Forest Service announcement is below!
---
Alert
National Forests in North Carolina
160A Zillicoa St.
Asheville, N.C. 28801
Web: www.fs.usda.gov/nfsnc
Media Contact: Lisa Jennings, 828-337-1359
Catawba Falls Footbridge Construction Begins May 3
NEBO, N.C., April 29, 2016 – Construction is set to begin on Tuesday, May 3, 2016 for the footbridge across the Catawba River on the Catawba Falls Trail. The Catawba Falls Trail is a popular hiking trail near Old Fort, NC on the Grandfather Ranger District of Pisgah National Forest.
The Catawba Falls Trail will remain open, but the public can expect to see construction traffic in the area. The US Forest Service asks that visitors stay on established trails and steer clear of the construction area.
The Catawba Falls Trail Bridge project is part of a larger effort to provide safe access to Catawba Falls. For more information contact the Grandfather Ranger District at 828-652-2144.